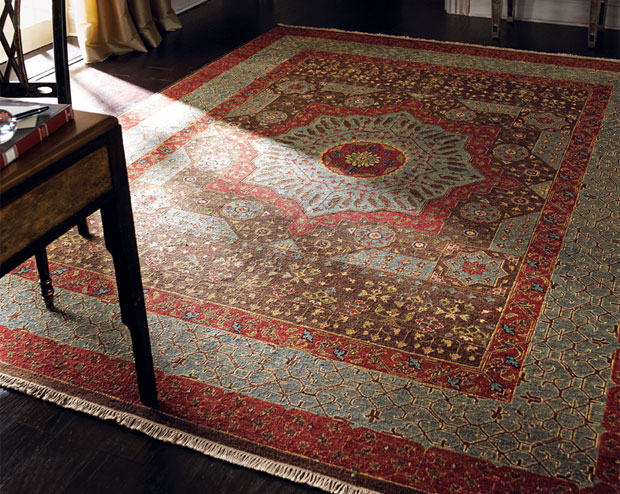 For a large foyer, consider a round rug instead of a square or rectangle; beneath a pedestal table, it makes a dramatic first impression for your home.
For a narrow entry, a runner may be the ideal solution.
Remember to allow for front-door clearance; if the rug has a thick pile, choose a size that stops short of the door edge when it's fully open (at a 45-degree angle to the frame).
Measure the width and length of the room.
Measure the width and length of the table with all extension leaves in place.
Add 24" to 30" to the table measurements to get the minimum rug size. This will allow chairs to be pulled out without 'falling off' the edge.
Of course, the rug can be larger, but at least 18" of floor should frame the rug on all four sides.
Measure the width and length of the room. Measure from the front edge of a fixed architectural element such as a fireplace or built-in bookshelves.
Consider the location of floor vents, which must be left exposed, and lighting (rugs can help cover cords, giving you more options in placing floor and table lamps).
Consider door locations and resulting traffic patterns.
If you want full-room coverage, your rug should leave 18" to 24" of floor exposed on all four sides.
If you want the rug to define space within a room, start by arranging the furniture. This will help you determine (a) how much of the floor you want to cover and (b) how many rugs you may want. Particularly in today's great rooms, you may have a small conversation area (two chairs with a table) and a breakfast or game table, in addition to the main seating area; a rug for each of these furniture groupings will help separate and define them.
A rug in front of a sofa should be at least as long as the sofa.
Legs on or off the rug? Either is acceptable.
A rug under a bed should extend at least 24" from each side.
An alternative is a runner rug for each side, long enough to extend from the nightstand to the foot of the bed.