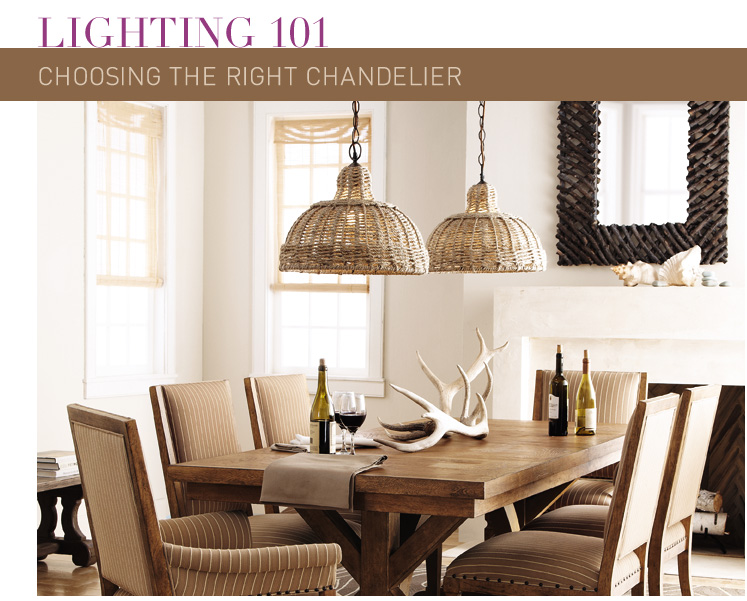 Measure the length and width of the room and add the two numbers; the sum is the approximate diameter of the chandelier. For instance, if the room is 12' x 14', then 26" would be the optimum chandelier diameter.

For a dining room, consider the width of your table, too. Aim for a chandelier diameter about 12" less than the table width.
Measure the distance from floor to ceiling.

For a living room, bedroom, or other space where you may be walking beneath the chandelier, allow 6 1/2' to 7' clearance from the floor to the bottom of the chandelier. Add about 4" for hanging hardware. Subtract that total - 10 1/2' to 11' - from the ceiling height to get the approximate height of the chandelier.

For a dining room, add the height of your table, the distance between table and chandelier (30" to 36"), and about 4" for hanging hardware. Subtract the total from the room height - the result is the optimum height of the chandelier.
In a two-story entryway, remember the chandelier???s primary purpose is to illuminate the first-floor space. Go for a slightly larger design and position it no higher than halfway between floor and ceiling; in a smaller entry, you should still aim for 7' to 8' above the floor.

Even the grandest chandelier is designed to provide only ambient light. A large dining room will need additional illumination - sconces to flank a door or china cabinet, or a pair of buffet lamps for the sideboard. Floor or table lamps should be added in rooms where you will be reading or working.
Mini chandeliers are a great new option for small rooms; a grouping of three minis above a bed, or two flanking a mirror in a bath or powder room, provide glamorous glow without overwhelming the space.